This spring, Fenwick High School Varsity Baseball used a unique approach to measure the behaviors of their hitters.
These measurements were taken game-to-game and in real time with the Focus app. Fenwick Coach Chris Stratton shared:
"Early in the implementation of Focus, our first goal was just to get players to understand that we are watching for certain behaviors – skill sets that are important to overall team success."
Contact Swing % was one of those behaviors/skill sets.
View the chart below to see how one player performed game-to-game with Contact Swing %.
Note: Contact Swing % is measured with every swing. Either the hitter makes contact, or they do not. Any foul ball or fair ball is counted as a (+) and any swing through is a (-).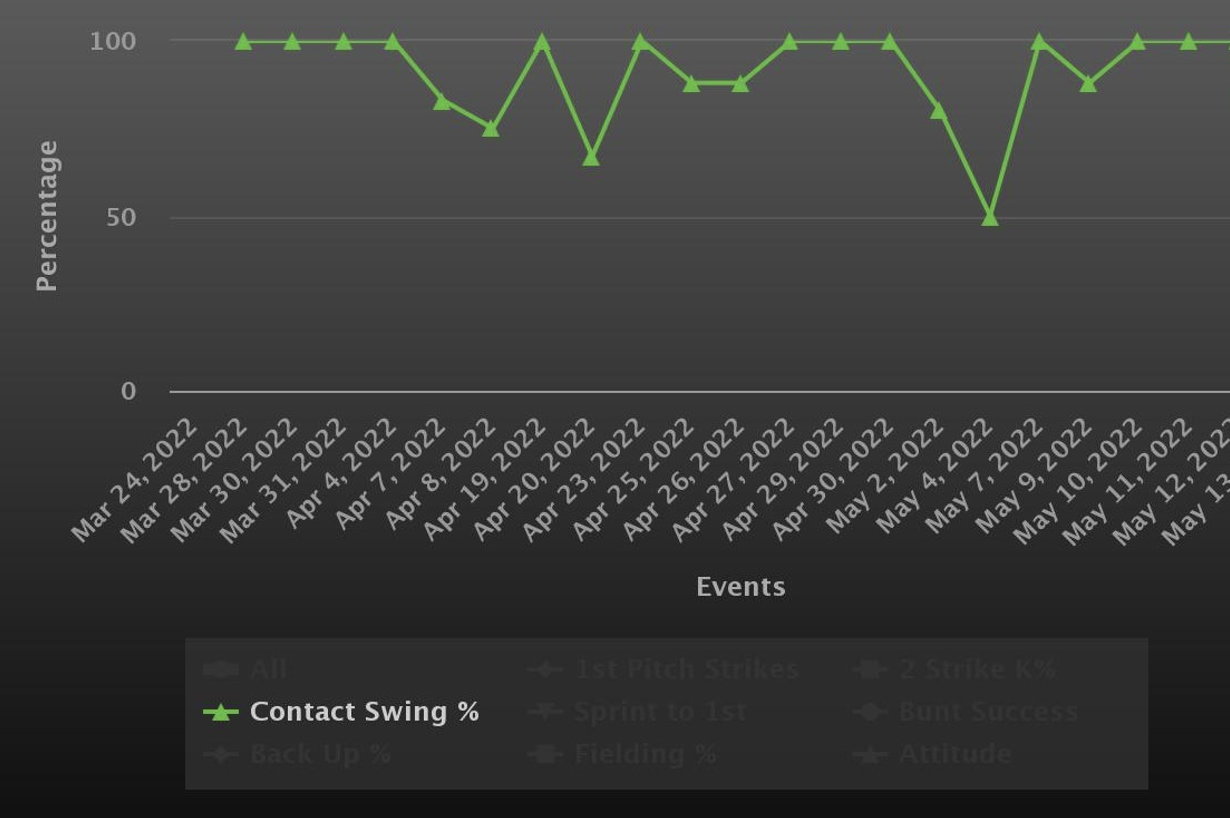 This player gave himself the best opportunity to get hits and put the ball in play when his contact swing % was most consistent. He had an amazing Contact Swing % of 90% (97-107) for the season!
Batters focused on contact swing % = more contact and more balls in play.
More balls in play = more hits.
This approach allows players to focus on one swing at a time, which provides them with opportunities to succeed beyond just a batting average. Even foul balls are a plus in the player's mind with this approach!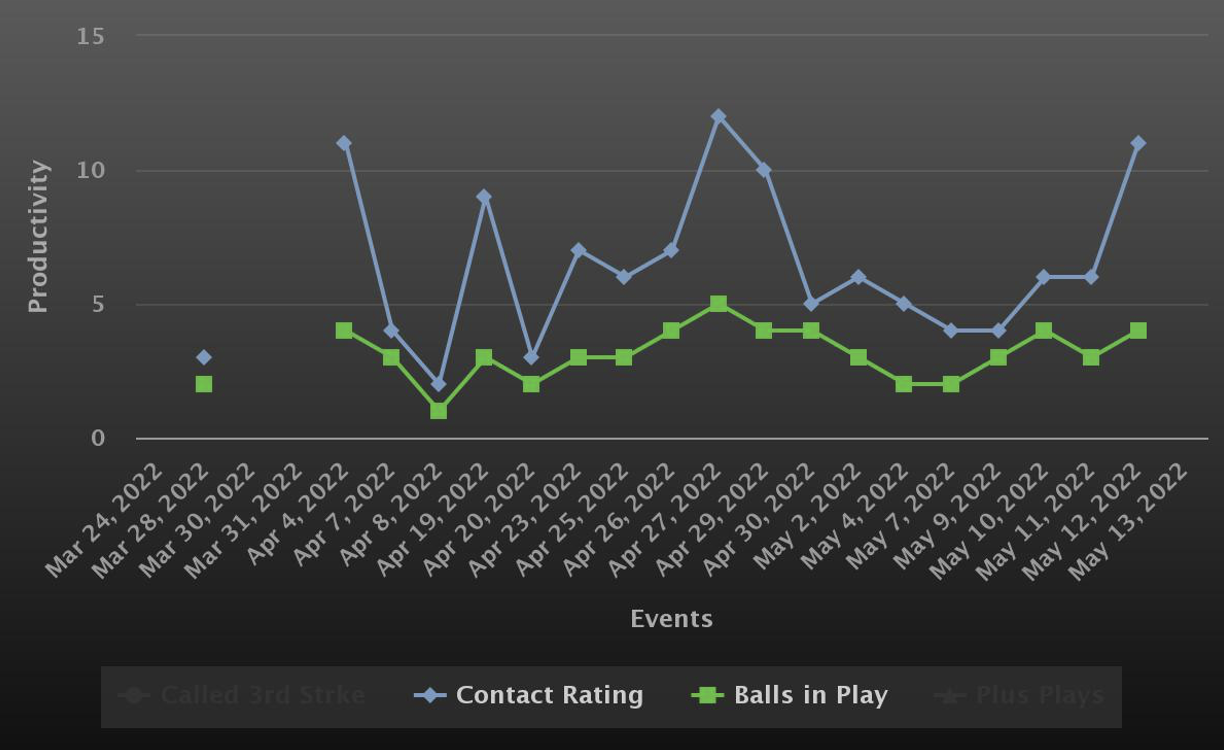 This player led his team in nearly every offensive statistical category. His Focus chart above shows Balls in Play and Contact Rating. The green line shows that he was consistent all season long and regularly put the ball in play, while the blue line shows how hard he hit each ball in every game.
Note: Contact Rating = (3 points) for barreled fly ball/line drive/ground ball, (2 points) average contact, (1 point) weak contact, pop up, weak ground ball). The middle of the chart shows five balls in play and a contact rating of (12 points).
This means he had a contact rating average of 2.4 on a 3.0 scale which is exceptional! In his final game, he put four balls in play with 11 as his total contact rating for an average of 2.75 on 3.0 scale. BIG TIME!
In short, the Focus app allows coaches to find their "why" through tracking and measuring the behaviors they value most. Coaches can use the information and insight provided by Focus to be more intentional when coaching their athletes. This team and individual player took away two major lessons from using Focus this season:
1. The more contacts they have at bat, the more balls end up in play.
2. The more swings that are barreled and squared up, the more opportunities they have to score runs.
This is something that your everyday Batting Average or On-Base Percentage doesn't tell you. Coach Chris Stratton said, "Being able to show players concrete evidence of their performance in areas that are not traditionally tracked," was what hit home for him as a coach.
As coaches, we are ALWAYS looking for that extra edge.
"Focus is, quite simply, next level stat and data collection. It's a really cool, useful tool that could help us take our program to a new level."

— Chris Stratton, Fenwick HS Varsity Baseball Coach
For a demo/consultation, please contact Beau Rabedeaux, Senior Baseball Consultant, at beau@coachandgeek.com.